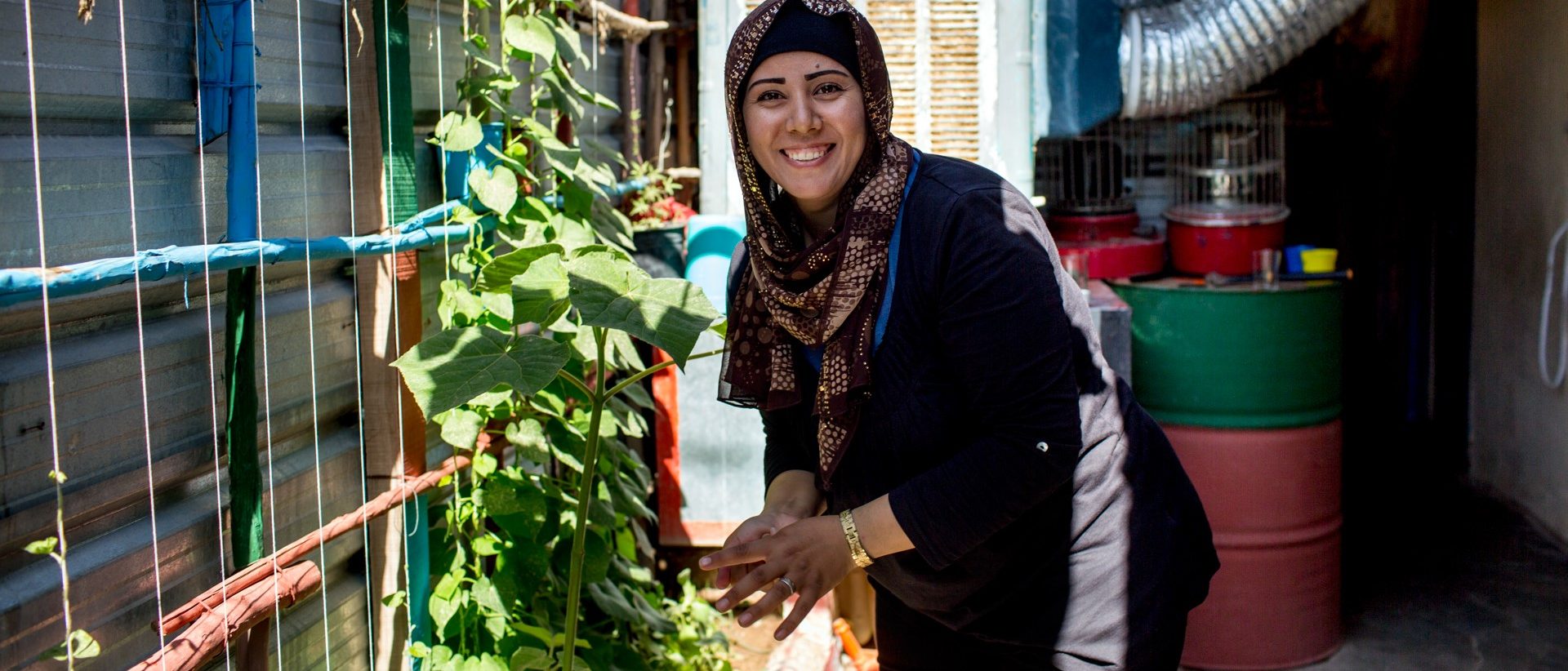 Donate to give a family a packet of seeds
Donate to provide a family with a basket of nutritious produce harvested from a community garden
Donate to give a family a lemon tree providing shade and fruit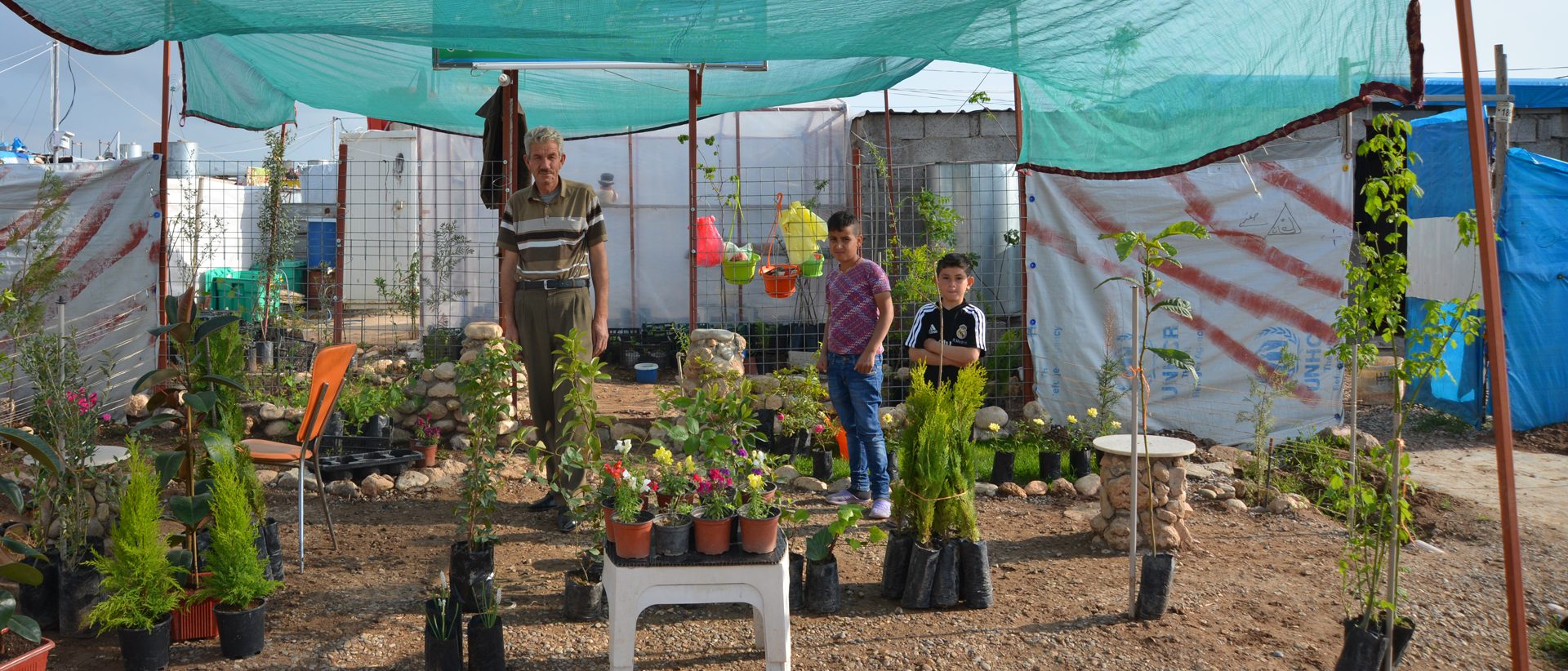 Donate to support the creation of a new community garden
Make a donation
With your support we are bringing beauty, dignity and opportunity to communities left ravaged by the effects of war. Every donation we receive directly supports gardening projects and initiatives in refugee and IDP communities.
Donate online
We welcome one-off donations as well as regular donations via Direct Debit. Make a secure online donation by clicking on one of the below buttons.
To donate in Australian dollar, Canadian dollar or Euro, please go to: www.justgiving.com/lemontreetrust.
Donate by bank transfer
If you would like to make a donation by direct bank transfer, make a gift in your will or give to the Lemon Tree Trust by another means, please contact us at [email protected] and we can send you the appropriate details and discuss your preferences.
Send a cheque
To donate in GBP (from the UK or internationally):
Cheques should be made payable to 'Prism the Gift Fund' and sent to:
Stephanie Berger,
Prism the Gift Fund (re: Lemon Tree Trust),
20 Gloucester Place,
London W1U 8HA,
UK
To add Gift Aid to your donation (UK only), please download the form here or email [email protected].
To donate in USD (from the US or internationally):
Cheques should be made payable to 'Communities Foundation of Texas' and 'Lemon Tree Trust' should be noted in the memo line on the cheque.
Cheques should be sent to:
Communities Foundation of Texas (re: Lemon Tree Trust),
5500 Caruth Haven Lane,
Dallas,
Texas 75225,
USA
Other ways to donate
Donate seed to our emergency appeal
In response to the global Coronavirus Covid-19 pandemic, we are focused on distributing food and flower seeds to people in refugee and IDP camps who are coping with Government enforced curfews and self-isolation at their shelters. Gardener to gardener, please help families to continue planting in their home gardens by making a donation or by sending us packets of seeds.
Support our Gardener to Gardener Seed Appeal.
How your donation makes a difference
£1 / $1 gives a family a packet of vegetable seeds
£5 / $5 provides a family with a basket of nutritious produce harvested from a Lemon Tree Trust community garden
£10 / $10 funds a Home Garden Starter Kit for a new family arriving in the camp, containing a Home Garden Manual, seeds, tools, a grow-bag and a children's gardening activity
£20 / $ 20 gives a family a lemon tree providing shade and fruit
£100 / $100 provides 4 schools with a Children's Garden Starter Kit for classrooms
£1,000 / $1,000 purchases a new polytunnel for one of our community gardens
£10,000 / $10,000 supports the creation of a new community garden
£50,000 / $50,000 supports gardening projects in new communities in Greece and Jordan, including projects for unaccompanied children
£100,000 / $100,000 enables the Lemon Tree Trust to build a new community garden hub in a camp, supporting the breadth of our work to restore dignity, improve environments and empower women
Fundraise for the Lemon Tree Trust
We welcome all ideas for fundraising. Contact us at [email protected] to tell us your idea and so that we can send you a fundraising pack.
Please note that we do not supply cash collection boxes so ask that you collect the money and then either make a donation online or send a cheque to us. Thank you.
Download our 'print at home' poster to promote your fundraising activities and events in support of the Lemon Tree Trust.
---
In the UK, the Lemon Tree Trust is a restricted fund under the auspices of Prism the Gift Fund, registered charity 1099682.
In the USA, all contributions to the Lemon Tree Trust Fund will be received, receipted and under control of Communities Foundation of Texas (CFT), a 501(c)(3) non-profit organisation.
Winners announced in 2021 Garden Competitions
We have awarded prizes to 72 winning gardens in our 2021 Lemon Tree Trust (LTT) annual garden competitions. LTT competitions took place in a record nine camps in the Kurdistan Region of Iraq (KRI), despite ongoing Covid-19 restrictions. Winners have received cash prizes and gifts of seeds and plants, and all participants have received certificates. … Continued
'Refugees and Restoration' roundtable
Land restoration in refugee camps and wider communities has enormous potential to enhance the living conditions of forcibly displaced people and the ecosystems of war-torn regions. To coincide with the official launch of the UN Decade of Ecosystem Restoration and World Environment Day on 5 June 2021, we were delighted to take part in a 'Refugees and Restoration' roundtable … Continued
Gardener stories: Meet Ahmed
Ahmed Ibrahim Ismail lives in the Azar neighbourhood of Domiz 2 camp. "I have a humble garden in my house, and I started working on it with my children two years ago. We have spent many good times in it, especially during the curfew for the coronavirus.⁣  ⁣"My garden contains 20 different types of roses and … Continued