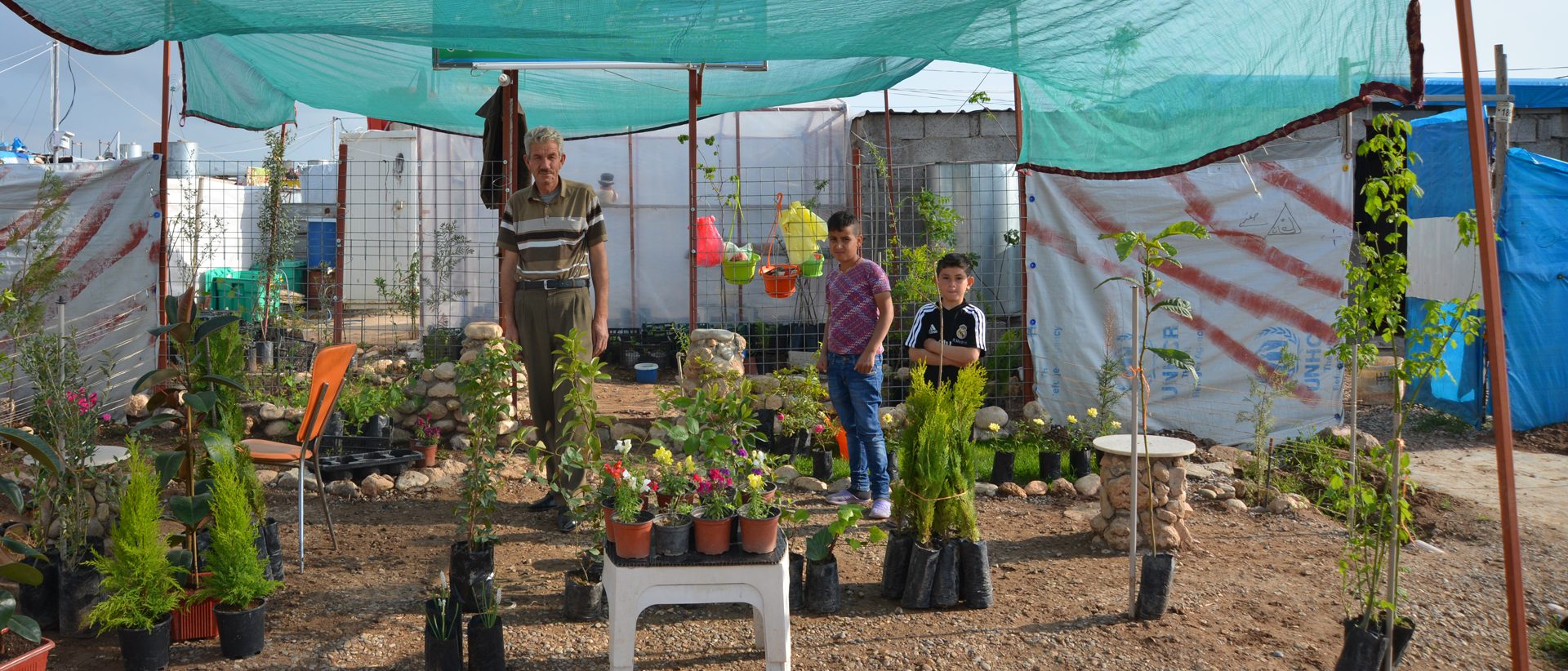 We have helped develop a commercial nursery through capital investment
We have opened five greenhouses in Domiz Camp to grow seedlings and establish small scale agriculture
Our innovative concept the Crisis Response Garden Kit contains all the resources needed to create a large garden
We work with refugee communities to identify livelihood and business opportunities and provide start-up support through an entrepreneurship seed fund.
We have recently supported:
The development of three nurseries as businesses for three individuals,
A demonstration garden offering training and fresh food, grown in gardens and under plastic,
A small refugee run business – (Crisis Response Gardens) making, sourcing and assembling emergency growing kits  to be distributed to communities in crisis.
We are in discussion with camp authorities about making a large strip of land available to be used as a small commercial farm. This will create opportunities for employment as well as dealing with water run off from the camp.
We are also fund raising for an entrepreneurship seed fund in order to make small grants available to support ideas for new agri businesses within the camp. If successful we will offer amounts of up to 5,000$ to cover the purchase of stock, premises and materials as well as other start up training costs.
Celebrate International Tea Day with a cup of Sidra Tea Blend
This International Tea Day, our operations manager, Aveen, shares her delicious and refreshing recipe for herbal tea. It blends rose, lemon balm, rosemary, lavender, santolina and mint. Before Covid-19, Aveen and our group of gardeners enjoyed taking tea together in the Azadi Community Garden in Domiz. After a busy session tending to the plants, it … Continued
100,000 packets of Mr Fothergill's seed donated to refugees during Covid-19 pandemic
Mr Fothergill's and the Lemon Tree Trust are working together to provide 100,000 packets of quality seed to people living in refugee and IDP (internally displaced people) camps in the Kurdistan Region of Iraq. Mr Fothergill's is supporting our Emergency 'Gardener to Gardener' Seed Appeal with a week-long promotion to its UK customers. For every … Continued
Virtual Home Garden Competition 2020
The global spread of Coronavirus Covid-19 means it is not possible to run our garden competitions in the Kurdistan Region of Iraq (KRI) this spring. However, we will continue to encourage people to sow seeds and enjoy gardening by celebrating refugee and IDP camp home gardens with a 'virtual' home garden exhibition this year. Residents … Continued